Transforming
a historic church's courtyard
The natural outdoor play and learning space on the grounds of the Falls Church (the city's of Falls Church, Virginia's namesake) is in a shady courtyard designed for use by children from the resident early childhood program along with preschool families gathering after school and children from the congregation on weekends. Within the space there are areas for imaginary play, quiet time, nature connection, as well as active and sensory play.  Watch a video tour of the space when it first opened here. 
 Paths and other ground surfaces include decking, stone, brick, and embellished concrete along with grass and wood mulch. This variety of materials invites a range of kinds of movement, including walking in bare feet.  The uneven surfaces intentionally require attention to be paid and thus help children to develop their muscles and senses. Children can travel along a balance trail and challenge themselves to jump, hop, and climb on logs, stumps at different heights, a stilt walk for balancing and stretching, and boulders and stone steppers for variety in texture and temperature.  A pile of large logs, all securely anchored, includes one whimsically carved to look like a giraffe and invites climbing and jumping into the surrounding soft mulch surfacing.
A large, deep area for digging in sand is enhanced with work surfaces made of logs and boulders, real tools like metal shovels and buckets, and natural materials like tree cookie plates, shells, and pickable plants—all to enrich play and encourage pretending. A child-operated water source (which can be turned off by teachers) flows along a sparkling mosaic stream under a stone bridge and ends in the sand area.  Adding water to sand play increases the play value dramatically.  The stream is an art element that adds texture and beauty to the space even when no water is flowing. 
 A hill constructed with soil removed when creating the sand pit provides a different vantage point for the courtyard from the highest spot in the space. A stump scramble inset into the hill allows for adventurous climbing up and an embankment slide for going down. 
 Quiet niches throughout the space made from boulders or logs set among plants support children's need to observe or retreat from the group.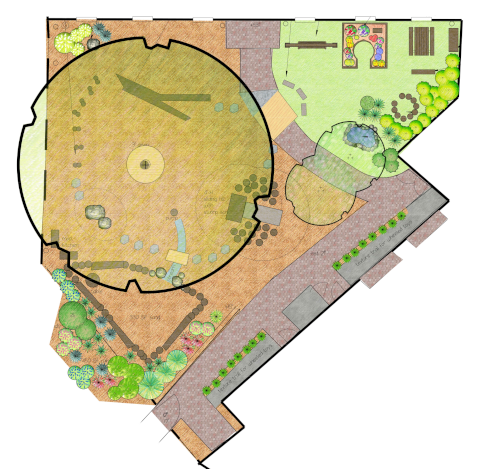 Get our free guide:
Eight Essential Elements of Nature Play Spaces
along with "nature Play News", our quarterly newsletter!